How to Travel to Red Pine
Girls may travel to and from camp by automobile, airplane or on chaperoned chartered buses from Chicago's Lake Forest Oasis. Luggage information.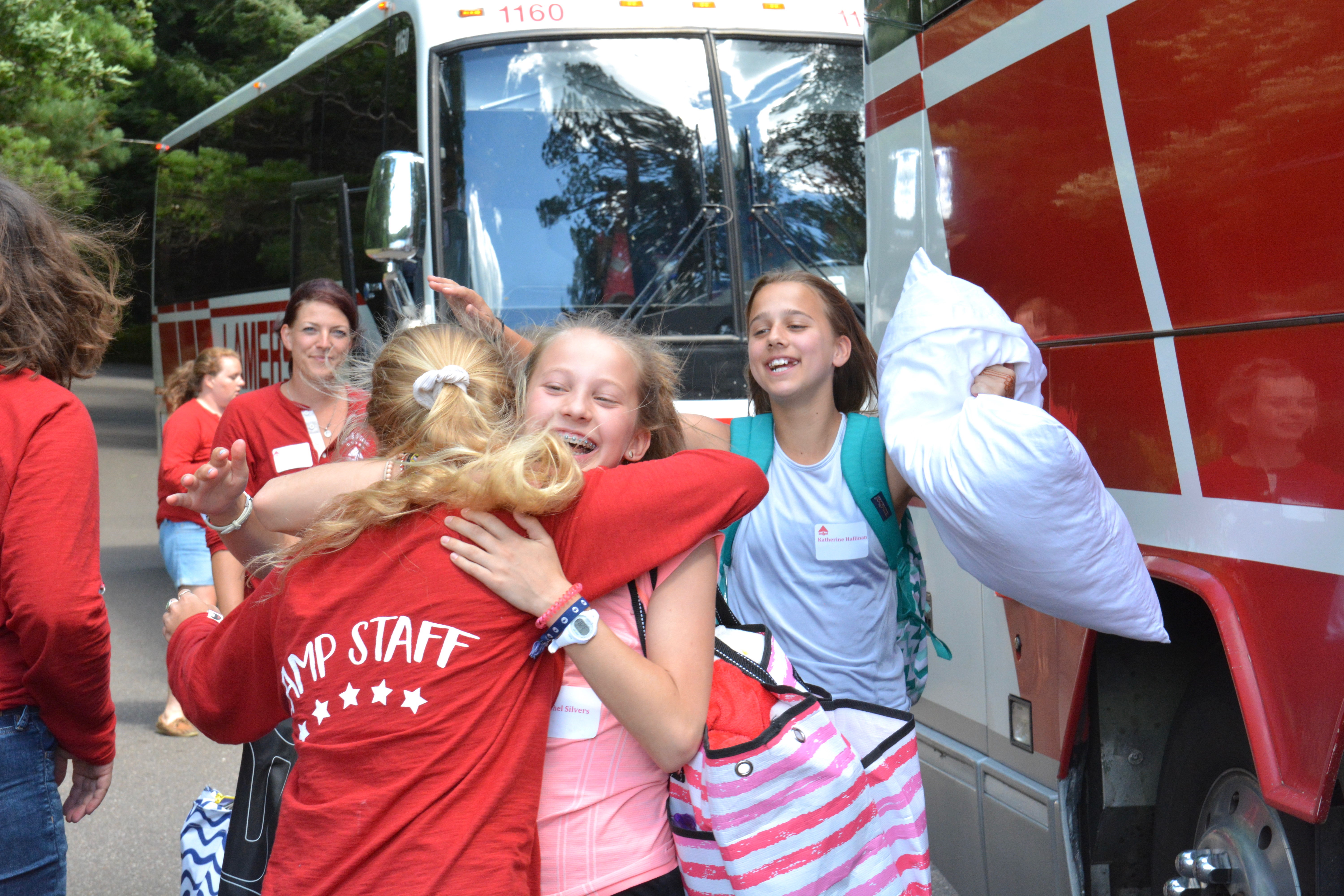 Please note that our shipping address is Red Pine Camp, 8531 Red Pine Road, Woodruff, WI 54568 which is different from our mailing address.

Please no oversized trunks. The standard trunk is approximately 20 by 36 inches, height about 15 inches. You will find that trunks are easier to ship than duffels as they may not need to be boxed and are easier to address. Please pack your camper's trunk with her linens and other clothing and ship to Red Pine at least 10 days prior to your camper's session's opening day so that her bed can be made up before her arrival. Please clearly mark your camper's name on her trunk. Luggage may be shipped via UPS or Federal Express.

Please make your own arrangements and payments for both arrival and return shipping at the same time you send off the trunks. If you have any questions please do not hesitate to call or send us an email.
If your daughter is taking the bus on her return trip home, our buses will be able to take one large duffle bag. Trunks will be shipped home..
8:15 AM - Assemble and check-in at Lake Forest Oasis: Meet bus on Northbound Side. There will be an escort from Red Pine there checking your daughter in and doing a lice check before she boards the bus. We also suggest that you collect your campers cell phone at this time.
No trunks please they should have been shipped to Red Pine (8531 Red Pine Road, Woodruff, WI 54568 in advance).
12:00 PM – Lunch Stop at a McDonald's. Price of lunch included in your payment. Campers DO NOT NEED CASH ON THE TRIP OR AT CAMP. Order for lunch will be taken on the bus by escort and phoned in prior to arrival to the restaurant. Campers DO NOT GET OFF THE BUS.
4:00 PM – Estimated arrival time at camp. Counselors will meet the bus and escort campers to the RN for check in and we will send you a voice mail and email blast when the bus arrives to let you know that your daughter has safely arrived at camp.
Please note: Parents will complete Transportation Form if they plan on their camper taking the bus to camp. The bus service is provided by Lamers at a fee of $125 each way ($250 round trip). Buses are air-conditioned with bathrooms. Lunch and drinks will be provided en route.
The Lake Forest Oasis is about 22 miles north of O'Hare--so about a 25 minute drive when traffic is not heavy.
Campers will be picked up at the Rhinelander, WI airport for a fee of $25. Please make airline reservations as soon as possible for opening and closing days and be sure to ask about unaccompanied minor policies for all campers under age 15. Flights should arrive by 11 a.m. Opening Day as campers are involved in activities after lunch. Departures can be scheduled anytime after 9am on Closing Day. If your daughter is flying to camp, she will need a carry-on bag with a change of clothes, sneakers, a bathing suit and a towel. If she is traveling with a cell phone or other electronics, upon arrival at camp they will be taken by her counselor and placed in the Director's office and will be returned at the end of the camp session.
Parents who drive their daughters to Red Pine should plan to arrive at camp between 9 am and 12 pm on Opening Day. Please park in the fields by the tennis courts. There you will be greeted by a member of the staff and taken to the office for check-in and to meet Executive Director, Connie Scholfield. All girls must then check-in with the nurses in the Infirmary. Parents and siblings are invited to join all campers for a buffet style lunch at the Lodge. Your daughter's luggage will be taken to her assigned cabin and her bunk will be made by one of her counselors while you enjoy lunch together. We do ask that after lunch, you say cheerful good-byes and leave by 2 pm. The girls will be involved in activities that afternoon.
More information on travel procedures will follow in your Spring Information Packet.
Departure information
Campers leaving by bus will be departing Red Pine at 9 am. The bus will arrive at the Lake Forest Oasis at approx 3:15 pm. The bus will stop for lunch en route. Our buses will be able to take one large duffle bag. Trunks should be shipped home.
If picking up your camper by car, we ask that parents pick up their campers between 9:30 AM and 11 AM.