How to Travel to Red Pine
Girls may travel to and from camp by automobile, airplane or on chaperoned chartered buses. Luggage information.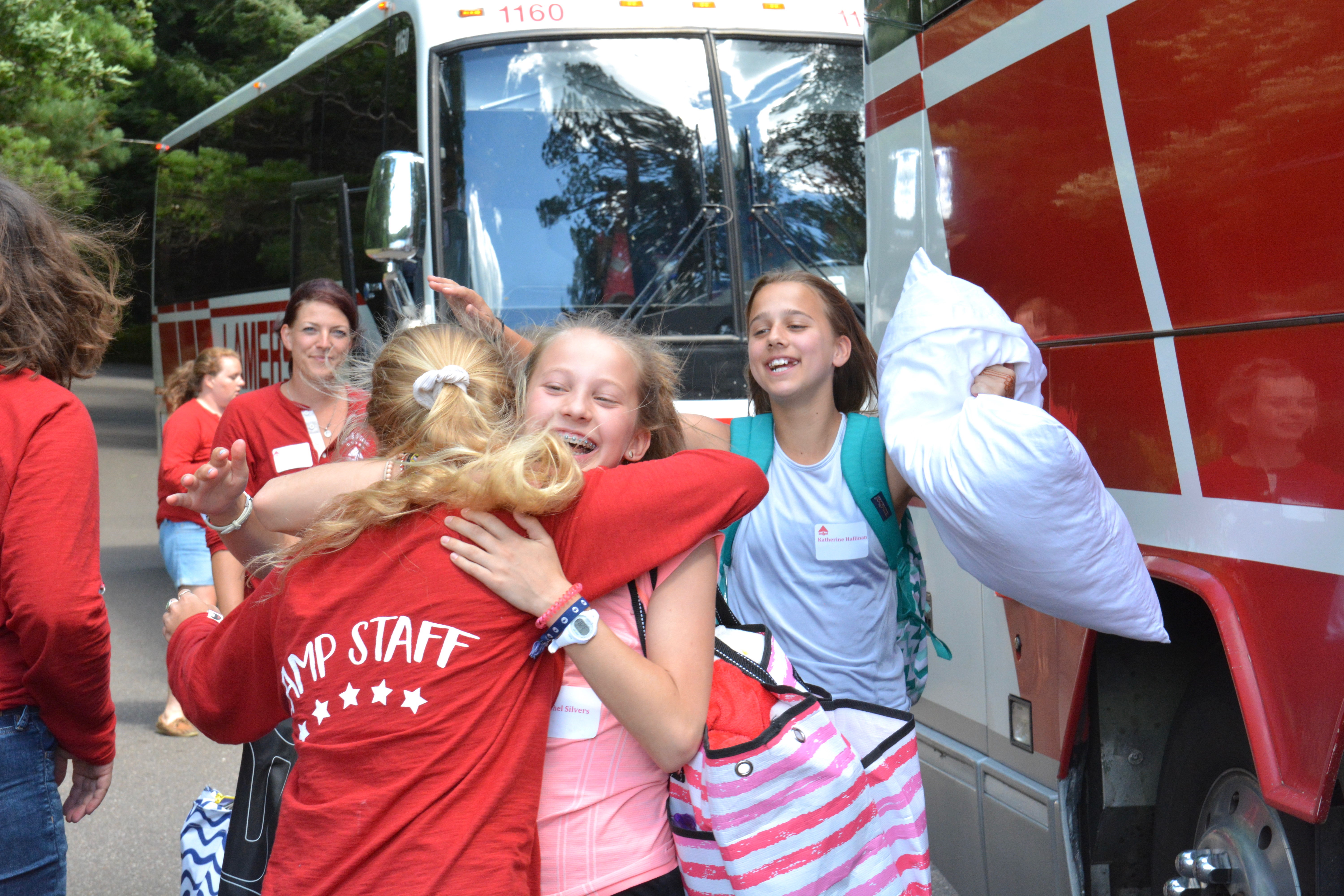 Please note that our shipping address is Red Pine Camp, 8531 Red Pine Road, Woodruff, WI 54568 which is different from our mailing address.

Please no oversized trunks. The standard trunk is approximately 20 by 36 inches, height about 15 inches. You will find that trunks are easier to ship than duffels as they may not need to be boxed and are easier to address. Please pack your camper's trunk with her linens and other clothing and ship to Red Pine at least 10 days prior to your camper's session's opening day so that her bed can be made up before her arrival. Please clearly mark your camper's name on her trunk. Luggage may be shipped via UPS or Federal Express.

Please make your own arrangements and payments for both arrival and return shipping at the same time you send off the trunks. If you have any questions please do not hesitate to call or send us an email.
If your daughter is taking the bus on her return trip home, our buses will be able to take one large duffle bag. Trunks will be shipped home..
Red Pine will continue to provide bus transportation from our designated pick-up site.
Sunday June 12 – Lake Forest Oasis...arrive at staggered times between 7:30 and 8:15. To be assigned.
Monday July 11 – Lake Forest Oasis... arrive at staggered times between 7:30 and 8:15. To be assigned.
The following protocol was used in 2021. We will update as our 2022 Camp season nears. To limit potential exposure and ensure a timely drop off, we ask all guardians to wear masks and remain in their vehicles for the duration of drop off. Please drop off only your daughter and do not carpool with other camp families. Please follow signs and staff direction to help guide you through the process of bus drop off. Prior to exiting your vehicle, Camp staff or volunteers will ask you and your camper symptom screening questions and perform a temperature check. If your camper is exhibiting any symptoms or has a temperature of 100.4 degrees or higher, she will not be permitted to enter the bus or join us at Camp.
Upon a successful screening, Camp staff will help unload the camper(s) luggage, load it on the bus, and allow your camper entrance to the bus. To lower the risk of spreading COVID-19, we ask that parents and families remain in their vehicle during drop off.
The following precautions will be taken for the duration of the bus ride to Camp:
Each camper will be issued a sanitization kit to sanitize their space on the bus
All campers and staff will be required to wear a mask for the duration of the trip
Windows will remain open for the duration of the ride.
The number of available seats will be reduced to allow for additional spacing.
We will not be making our usual stop at MacDonald's for lunch, so campers are asked to bring their own bag lunch and beverage for the trip to camp.
We are also considering conducting a 15-minute antigen test before your camper gets out of your car and boards the bus or coordinating a test the day before. More information regarding this possibility will be forth coming. We will keep you informed.
Campers will be picked up at the Rhinelander, WI airport for a fee of $25. Please make airline reservations as soon as possible for opening and closing days and be sure to ask about unaccompanied minor policies for all campers under age 15. Flights should arrive by 11 a.m. Opening Day as campers are involved in activities after lunch. Departures can be scheduled anytime after 9am on Closing Day. If your daughter is flying to camp, she will need a carry-on bag with a change of clothes, sneakers, a bathing suit and a towel. If she is traveling with a cell phone or other electronics, upon arrival at camp they will be taken by her counselor and placed in the Director's office and will be returned at the end of the camp session.
This information will be updated soon. More information on travel procedures will follow via email to all of our camp families.
Departure information
Saturday July 9 & Saturday August 6 - Campers will depart from Camp around 9:00 AM and should be arriving at SITE TBD around 3:30 PM.
Our buses will be able to take one large duffle bag. Trunks should be shipped home.
If picking up your camper by car, we ask that parents pick up their campers between 9:30 AM and 11 AM.